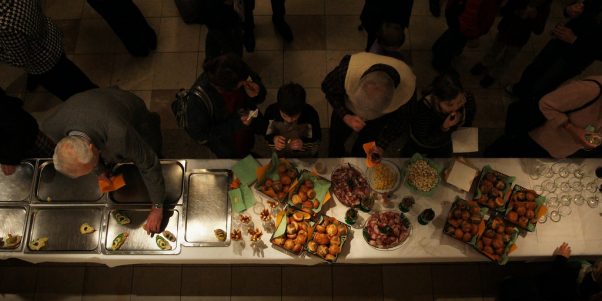 this image is a lecture of seeing for me. our photo group wasvisiting a local vernissage and i made use of the occasion to train my
fingers, and eyes so i thought. everything very conventional, some nice
snaps of kids and the artist, but no real picture. we went up to
the balustrade with some more collages on the walls and coming down we
had a view of the already almost empty buffet. our lecturer, a
photographer of dozens of years of experience i have to add, pointed
downwards and asked me what i thought about the scenery – and i was
reluctant. he asked again, and me: still reluctant. just when i walked
down the stairs and had a symmetrical view of the table under me and the
peoples surrounding it like dark pillars i saw the picture. and now seeing
it on my screen i really like it.
now tell me: why was i so slow in the uptake?