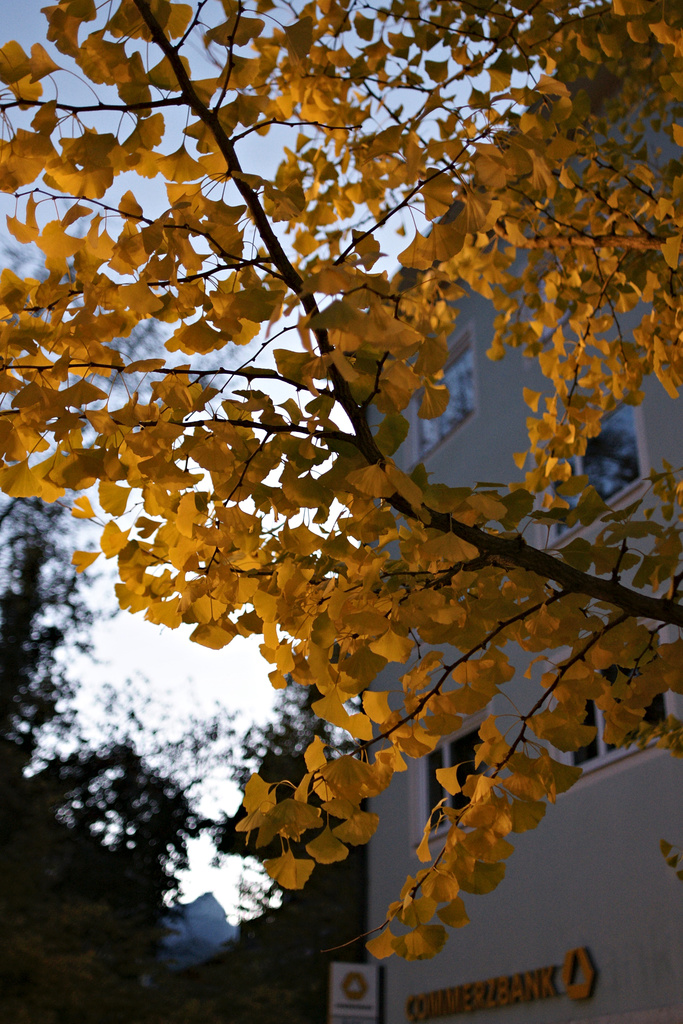 The walk home after a long day commuting to the office brought and unexpected picture: Progressing autumn had coloured the Gingko tree's leaves yellow, the spotlight from below enhanced it and the night sky had just the right brightness as a contrast.
However it did not meet me unexpected: I had already seen other trees in different states of foliage, with different lights and different states of the evening sky, but in spite of carrying the camera I did not bother with making an image – in the viewfinder, the scenery did not form an image.
This process of deciding when to try an image, of estimating the pictoral power of the elements is still a mysterium to me. And while I am intently following the Landscapist's series of posts On Seeing, I have still not found even a thread that would allow to untangle that mysterium. Instead I have decided to practise, not letting the theoretical discussion completely fall below the horizon, instead hoping for something like a critical mass that would suddenly bring a great leap in the process of understanding.
I do know this procedure from my day job as GIS analyst/programmer, where I sometimes spent days on a single problem, then got diverted, read and gained knowledge and practice by doing, and suddenly the first problem got resolved – not by determined analysis, but by a broad gain of knowlege and skill.
So I keep my fingers crossed that this works in photography in a similar way.